press releases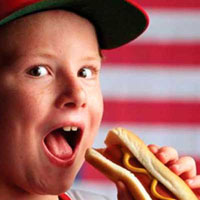 NHDSC
|
Thursday, May 08, 2008
Washington, DC, May 8, 2008 — With food prices rising at an unprecedented pace, the National Hot Dog and Sausage Council unveiled two new recipes that are high in flavor and nutrition but low in cost.
Both recipes cost little approximately $10 and are easy to prepare — perfect for today's busy, working families.
"Cacciatore with Italian Sausage," which rings in at $10.50, combines two economical ingredients — sausage and pasta, which, when paired, together yield a hearty meal for a family of four.
"Grilled Taco Chili Dogs", sure to be a hit with the kids, yields eight…
---