NHDSC
|
Wednesday, July 23, 2014
National Hot Dog and Sausage Council Announces Selfie Contest Winner
As Americans celebrate National Hot Dog Day today,  new National Hot Dog and Sausage Council (NHDSC) survey data reveals that mustard will be the go-to topping.  Although the Council's rules of etiquette say "no ketchup on a hot dog after the age of 18," Americans defied the rules, naming ketchup as their second choice – news that has raised the eyebrows of Council leaders.
According to a recent online survey conducted by Harris Poll on behalf of the Council, nearly three quarters (71 percent) of Americans who eat hot dogs say they top their hot dogs with mustard, followed by ketchup (52 percent), onions (47 percent), chili (45 percent) and relish (41 percent).
"Our mustard finding is no surprise given the condiment's prominent place on regional favorites like New York and Chicago Dogs, said NHDSC President and Queen of Wien Janet Riley. "Ketchup's popularity was the big surprise, considering our etiquette rules – and ketchup's notable absence from regional hot dog favorites like the Chicago Dog and the New York Dog." 
 "The high scores for so many condiment options suggest that Americans may be topping their hot dogs more generously than ever."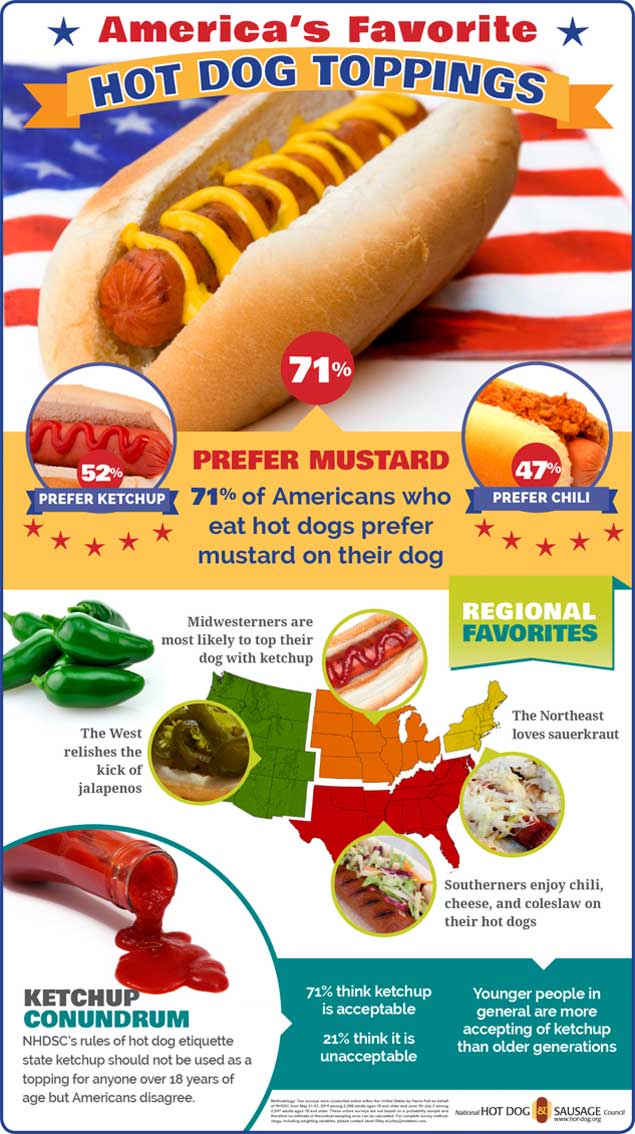 Survey results showed that mustard is a consistent favorite nationally, but topping preferences varied regionally. Southerners are more likely to top their hot dogs with chili, cheese or coleslaw. Sauerkraut remains a favorite in the Northeast, while jalapenos are most popular out West.
The Ketchup Conundrum
While many hot dog connoisseurs consider ketchup a definite no-no, Americans seem to disagree. When asked if ketchup is an acceptable hot dog topping, 79 percent of Americans said yes, with only 21 percent declaring it unacceptable.  Most shocking of all was the fact that Midwesterners, where the ketchup-less Chicago dog reigns supreme, were most likely of any region to agree that ketchup is an acceptable topping (84 percent) and report that they put ketchup on their hot dogs (55 percent).
"As a Chicagoan who believes ketchup is for hamburgers, not hot dogs, I was stunned to think that Midwesterners may be harboring a secret love of ketchup-topped wieners.  It's like discovering that the Rolling Stones prefer classical music," said Riley, who predicted that the revelation was sure to prompt frank conversations in the Windy City."
She theorized that the divergent opinions on ketchup might be related to age. While only 13 percent of Americans between the ages 18-34 find ketchup on a hot dog unacceptable, the percentage steadily rises as people get older with nearly one third of those over age 65 (32 percent) saying ketchup doesn't belong on a hot dog.
An infographic with more on the results is available at www.hot-dog.org.
Hot Dog Month Selfie Winners Announced
To further commemorate July as National Hot Dog Month, the National Hot Dog and Sausage Council is proud to announce the Hot Dog Month Selfie contest winner. After "wien-ing" down to eight finalists, our winner comes from Anchorage, AK. Melissa Houston's submission was chosen America's number one hot dog selfie. Showcasing her love of hot dogs with a picture of herself in a hot dog suit flanked by condiments in a beautiful Alaska setting, she will receive an Airhead Watersports Ride On Toy, a $100 gift card for their favorite hot dogs and an NHDSC t-shirt.
Contest runner ups were:
1st runner up: Rob Merlino with a picture showing himself eating a hot dog in front of an American flag
2nd runner up: Christy Bowman with a picture showing a Chicago dog at Chicago's U.S. Cellular Field.
Rob will receive a $50 gift card for their favorite hot dogs and an NHDSC t-shirt, and Christy will receive an NHDSC t-shirt.
NHDSC's Hot Dog Selfie Contest had contestants from all different regions, ranging from Alaska to Washington, D.C. The winning selfie drew 40% of the votes amongst fans of the NHDSC Facebook page.
Methodology
Two surveys were conducted online within the United States by Harris Poll on behalf of NHDSC from May 21-23, 2014 among 2,066 adults ages 18 and older and June 30-July 2 among 2,047 adults ages 18 and older. These online surveys are not based on a probability sample and therefore no estimate of theoretical sampling error can be calculated. For complete survey methodology, including weighting variables, please contact Janet Riley.
About Nielsen and The Harris Poll
On February 3, 2014, Nielsen acquired Harris Interactive and The Harris Poll.  Nielsen Holdings N.V. (NYSE: NLSN) is a global information and measurement company with leading market positions in marketing and consumer information, television and other media measurement, online intelligence and mobile measurement. Nielsen has a presence in approximately 100 countries, with headquarters in New York, USA and Diemen, the Netherlands. For more information, visit www.nielsen.com.
---
Established in 1994, the National Hot Dog and Sausage Council conducts scientific research to benefit hot dog and sausage manufacturers. The Council also serves as an information resource to consumers and media on issues related to quality, safety, nutrition and preparation of hot dogs.