press releases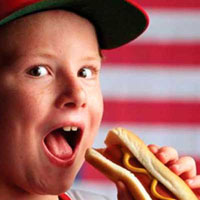 NHDSC
|
Monday, September 10, 2007
Washington, D.C., September 10, 2007 – Juggling schoolwork and meal preparation can be challenging, especially when children are picky eaters. Experts say, however, that children's favorite foods can be 'anchors' to encourage children to eat the variety of foods that are so important for their growing bodies.
The National Hot Dog Council has taken on this challenge, developing a new collection of back-to-school recipes centered on two of kid's favorite foods—sausages and hot dogs. These recipes can be served alone or prepared with other sidedishes to offer children meals they will…
---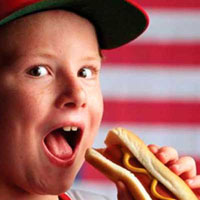 NHDSC
|
Wednesday, May 18, 2005
WASHINGTON, D.C., Jan. 18, 2005- New York City eats the most hot dogs according to the "Top Ten Hot Dog Eating Cities" of the National Hot Dog and Sausage Council (NHDSC). In 2004, New Yorkers consumed $112.7 million worth of frankfurters and "better for you" hot dogs using statistics prepared by Information Resources Inc.
Hot dog sales in Los Angeles and the Baltimore-Washington came in at second and third in total supermarket dollar sales.
"New Yorkers have also been known for their fondness for hot dogs", said Janet Riley, senior vice president of public affairs for the…
---